Now that you are done with high-school, you enter into the real big world out there. You wish to make a fresh start in life, along with all your things new. New books, new friends, new places and basically, you want everything new and of course, the best. And to fulfill your academic requirements and complete assignments on time, you would need the best laptop that fits right for your particular major or course. However, the thought of having a budget control and at the same time for a necessary laptop without compromising on anything is a difficult choice to make.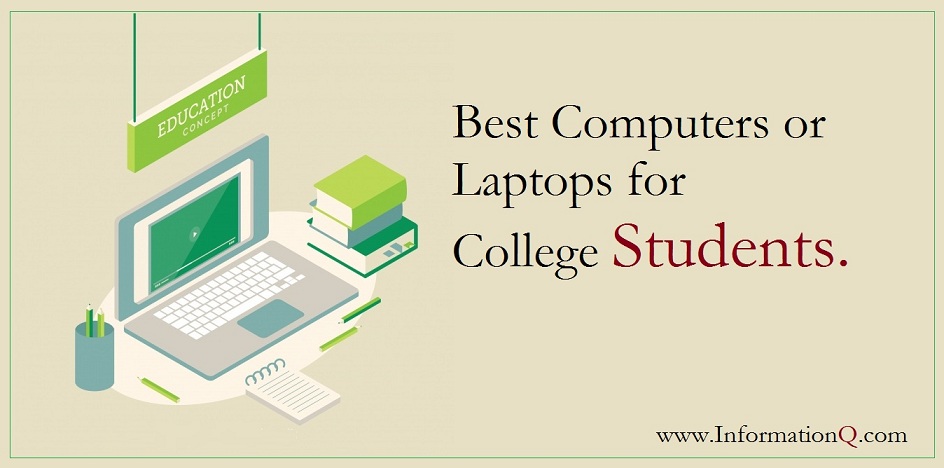 You might have a lot of thoughts as to which laptop to buy, what to look for in a laptop, laptop features, laptop specifications and so on and so forth. In this article, I hope to help you choose or decide the best laptop that suits you and your needs the best which also would fall in your budget category.
What to Look for
When Buying a Laptop
The first thing you would need to do is to go through your course curricular which would help you learn the necessary things you would require through the entire course. Therefore, doing so will make you half clear as to what is a good laptop to buy for your requirements. Now that you know your requirements, you will simply have to match them with that of the laptops features and specifications.
There are many aspects that you should consider while buying a laptop for your college. The most important thing to consider is your budget which would narrow you down to the available options. Now, all you are left with the best laptop that would offer all the specifications you need.
Operating System:
Windows OS: The Windows OS developed by Microsoft is the most preferred platform by users. The most popular versions that are widely used these days are Windows 7 and Windows 10. The OS comes with a simple and easy to use Graphical User Interface (GUI). You also have Windows 8, but it isn't that preferable. The Windows OS offers a wide range of features and specifications such as a touchscreen, quad-core processors, dual graphics chips, and more.
MacOS: MacOS developed by Apple offers almost all the features that the Windows does, with an obvious touch of Apple's uniqueness. All the MacOS that are running now use the latest version MacOS High Sierra. However, if you are looking for a touchscreen laptop from Apple, you will have to reconsider your options. However, it does offer a Touch Bar on a few of its latest products. This platform is of best usage for people with Apple mobile phones and Apple Watches. You will easily be able to sync your devices and use the laptop.
There are also other Operating System options such as ChromeOS, Linux OS, Ubuntu.
Laptop Size:
Since its college and there will be a lot of going here and there, you will need a laptop with the best mobility. Therefore, the laptop should be of good size and at the same time weigh less.
13 – 14 Inches: If you are a person that moves around a lot, then laptops bearing this size are best suited for you as they are portable and can be carried easily.
15 and + Inches: These laptops are comparatively less expensive than the 13-14 inch laptops and are the most popular. The laptops above this size mostly double as a desktop and may get fussy to carry around. For example, most of the gaming laptops that are available in the market come in these sizes.
Flexibility:
There are laptops that can be turned around 360 degrees which can work as a tablet and a laptop with the keyboard. In other words, you can detach the keyboard and use the laptop as a tablet. On the other hand, there are laptops that cannot be detached but can be completely flattened. Although flexible, these laptops may be slightly more expensive than the regular notebooks. Therefore, you can opt for the 2-in-1 laptop according to your requirements. Some of the best choices that provide this feature are Lenovo Yoga 920, HP Pavilion x360, Microsoft Surface Pro, and Dell Inspiron 7373.
Battery Life:
A laptop is said to be of best use to a student, if it offers more than 6 hours of battery life, with 8 + being the ideal battery life. Some laptops with more than 8 hours battery life are Lenovo ThinkPad T470 with up to 16 hours. Then you have Dell XPS 13 9630 with up to 15 hours, and Lenovo ThinkPad X270 with over 13 hours of battery life.
Specifications:
Processor/ CPU: Intel i-series is the most popular these days. The Intel i-7 is best if your work is going to include a lot of graphics. Otherwise, i-5 is the best option with i-3 that is a step below i-5.
RAM: A minimum of 4 GB RAM for best output. Also, consider an 8 GB RAM if your budget lets you.
Hard Drive: A minimum of 128 GB SSD, best option would be of 1TB.
Display: Most affordable and mainstream laptops come with a 1366 x 768 resolution. For a better display quality, you could consider 1920 x 1080.
Laptop Suggestions:
Lenovo Ideapad 320 comes with a 4GB RAM, 1TB hard drive storage, Windows 10 64-Bit, 4 and ½ hours of battery and 15.6 inches LED display, and Dual Core 1.1o GHz processor. (Under 500$).
Asus Vivobook E403NA has a Dual Core Processor up to 2.4 GHz, 4 GB RAM, 64GB storage, 14 inches with a 1920×11080 display, Windows 10 64-Bit, and 14 hours of battery life. (Under 500$).
Acer Chromebook R11 comes with 1.6 GHz dual-core processor, 4 GB RAM, 32GB SSD space, 11.6-inch size with 1366×768 display resolution, Chrome OS, and 10 hours of battery life. (Under 500$).
HP 15 ay-191ms Laptop has a 2.4GHz Dual-core processor, 8GB RAM, 1TB HDD, Windows 10 64-Bit, 8 hours battery life, 15.6 inches with a 1366×768 display. Also, this is one of the best touchscreen laptops which is affordable. (Under 500$).
Dell XPS 13 comes with the 8th generation quad-core processor, 16 GB RAM, 3200 x 1800 display, a 13-inch display which is touch-enabled, 16 hours of battery life. (Under 100$).
Related Articles: