In this world, we celebrate diverse events for various reasons and almost cover every nation or people. Every category of people is involved in special occasions observed internationally, whether for children or older adults. Out of all those, one international celebration is observed for students, teachers, or people linked to the digital learning era, known as 'Digital Learning Day'. It is an annual event celebrated on 23rd February each year dedicated to promoting technology in education. On this day, the potential of digital learning to offer enjoyable and productive learning experiences for students of all ages is recognized, along with its capability to widen the reach of education and link learners with various academic learning resources and opportunities from all over the world.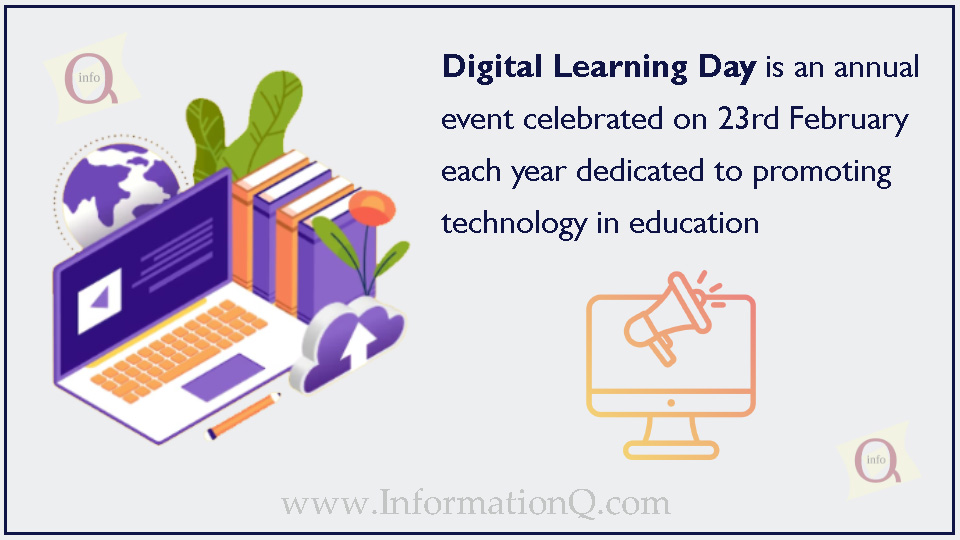 History of Digital Learning Day
Do you know the history of Digital Learning Day? When and how was it observed for the first time? Looking back, Digital Learning Day was first recognized in the year 2012 by the Alliance for Excellent Education. This is a non-profit organization based in Washington, D.C. that aims to improve the quality of education of all students. The first Digital Learning Day was held on February 1st 2012. It was a national campaign aimed at showcasing the benefits of digital learning and promoting its adoption in schools across the United States.
Since then, Digital Learning Day has grown into a global movement, with teachers, schools, and organizations from around the world using the day to showcase innovative practices and share best practices in digital learning. In 2013, the Alliance for Excellent Education partnered with the National Writing Project, the National Council of Teachers of English, and the Verizon Foundation to expand the event's reach and impact and to give a variety of tools to teachers and support to help them implement digital learning in their classrooms.
Each year, Digital Learning Day focuses on a specific theme or topic related to digital learning, such as personalized learning, digital citizenship, or maker education. The day primarily includes webinars, social media campaigns, and other events intended at promoting awareness of the benefits of digital learning and helping teachers in integrating technology into their teaching and learning processes.
Significance of Digital Learning Day
Digital Learning Day is a significant event because it underlines the necessity of using technology to improve teaching and learning in the present 21st century, i.e. the digital age. Now days, students need access to the technology and resources to get a good result from their learning efforts, and that's a fact!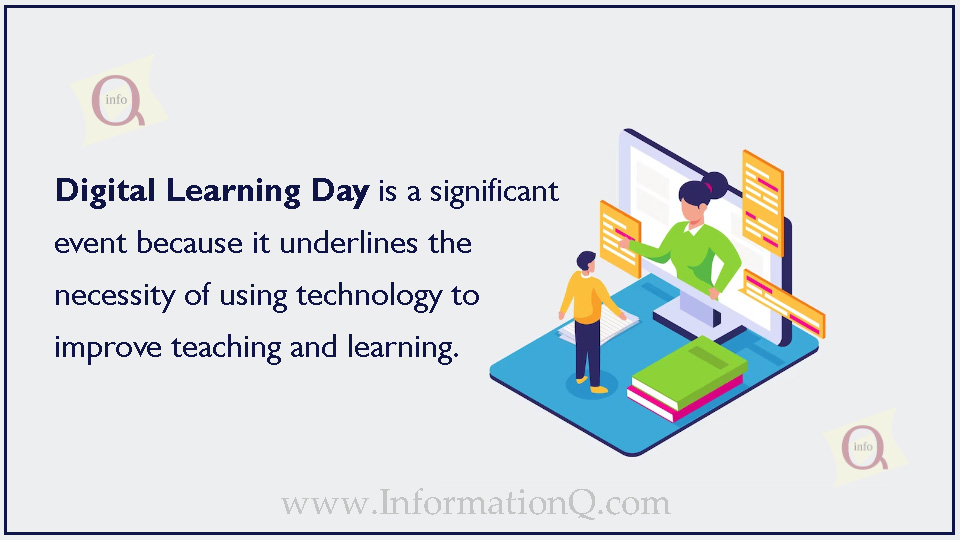 Below mentioned are some of the critical reasons why Digital Learning Day is significant –
Celebrating Innovation – Digital Learning Day celebrates innovative teaching practices using technology creatively. It gives teachers a channel to share their stories of success and best practices with others, which can motivate and drive other teachers to follow similar strategies.
Raising Awareness – Digital Learning Day raises awareness about the importance of digital literacy and digital citizenship. With this kind of event, people can understand the role of digital tools and technology in shaping the career of the students and promoting their academic success.
Fostering Collaboration – Digital Learning Day brings teachers, policymakers, and other stakeholders to collaborate and share ideas about improving education through technology. By joining hands, these groups can identify new opportunities and solutions for using technology to support student learning.
Expanding Access – Digital Learning Day helps to boost access to Education by highlighting the potential of technology to connect students with resources and opportunities from around the world. No matter, where the students live or what is their background, teachers can help in expanding access to high quality learning programs to these students with the help of digital tools.
Overall, Digital Learning Day is a significant event highlighting the importance of using technology to enhance teaching and learning in the 21st century. By celebrating innovation, raising awareness, fostering collaboration, and expanding access, this event helps to promote digital literacy and digital citizenship and support student success.
Poplar Tweet of #DLDay
Our 2021 Digital POY are offering up some of their expertise for #DLDay on how to make schools a great place for students to learn digital skills. Among their best advice is provide training and support, be intentional and work with teachers. https://t.co/EbO4h4JGkN @MarcusJBelin pic.twitter.com/cCygthxrhW

— National Assoc. of Secondary School Principals (@NASSP) June 5, 2022
Let's make #DLDay the largest celebration yet!

🔴Save the date
🟢Plan an event to celebrate
🔵Spread the word using the #DLDay hashtag

Make connections by sharing and celebrating the successes happening in schools and classrooms each day! https://t.co/lhr3CB3EWI pic.twitter.com/C8dXN5uL4T

— Thomas C. Murray (@thomascmurray) February 17, 2023
Thursday is #DigitalLearningDay! 💻#Teachers, use our #StatsInSchools @Kahoot game to go on an online scavenger hunt with your students and find Gina the Geographer.

Let's play: https://t.co/YbDzffBhPi pic.twitter.com/aPg512yDkq

— U.S. Census Bureau (@uscensusbureau) February 21, 2023