Science deals with the study of the process and occurrences that we see in the world around us. It deals with the study of facts that are verifiable and when observed facts are studied systematically it becomes a science. And to link science more closely with society, World or International Science Day is celebrated to ensure that citizens are kept informed of developments in science and also to maintain peace about the merits and demerits of science.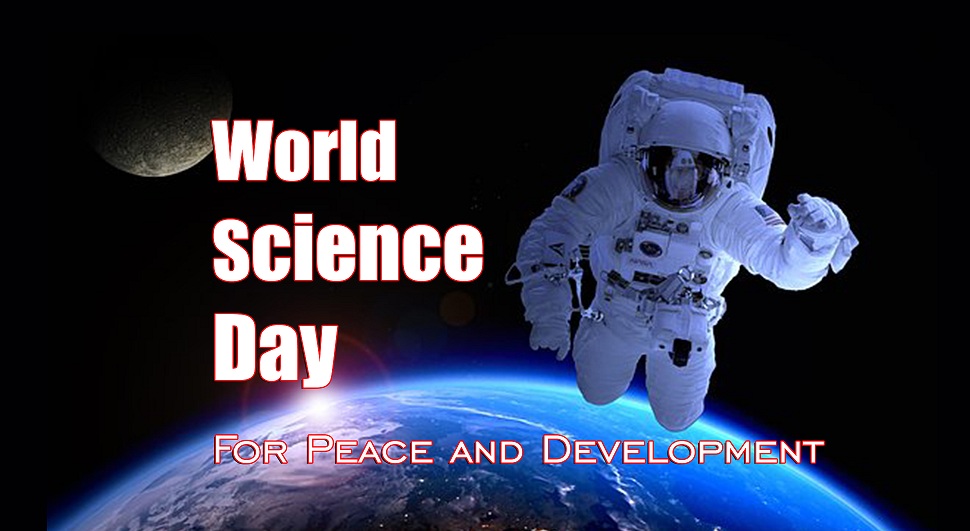 The world conference on science in Budapest, Hungary, in July 1999, which was co-organized by UNESCO and the International Council for Science. The delegations of Ethiopia and Malawi, together with the British Association for the Advancement of Science, proposed that a World Science Day of world science week be created. The General Conference brings all member states of UNESCO together every two years to adopt the program and budget for the coming biennium and it was decided by the General Conference to proclaim 10th November of each year World or International Science Day for development, peace and to encourage every individual who are associated with this topic to participate in events.
World Science Day for Peace and Development is celebrated on 10th November every year with great enthusiasm and with serious note and it highlights the important role that science has in society. It is celebrated with various objectives like it promotes national and international solidarity for shared science between countries. It also helps to strengthen public awareness on the roles of science for peaceful and sustainable societies. It also has other important objectives like to renew national and international commitment for the use of science for the benefit of societies and draws attention to the challenges faced by science and raising support for the scientific endeavor.

World Science Day Overview:
| | | | |
| --- | --- | --- | --- |
| Year | Day | Date | Theme |
| 2012 | Saturday | 10th November | 'Science for global sustainability: interconnectedness, collaboration, transformation' |
| 2013 | Sunday | 10th November | 'Science for Water Cooperation: Sharing Data, Knowledge and Innovations' |
| 2014 | Monday | 10th November | 'Promoting Quality Science Education: Ensuring a Sustainable Future for All' |
| 2015 | Tuesday | 10th November | 'Science for a Sustainable Future' |
| 2016 | Thursday | 10th November | 'Celebrating Science Centres and Science Museums' |
| 2017 | Friday | 10th November | 'Science for Global Understanding' |
| 2018 | Saturday | 10th November | 'Science, a Human Right' |
| 2019 | Sunday | 10th November | 'Open Science, leaving no one behind' |
| 2020 | Tuesday | 10th November | 'Science for and with Society in dealing with COVID-19' |
| 2021 | Wednesday | 10th November | We Update Soon |
Top Tweets of #WorldScienceDay:
Tweet 01:
To mark the upcoming #WorldScienceDay themed #OpenScience, we explore the vision of #science as a global public good: https://t.co/lQwHamYdIt

If you support our vision for science that transforms, share this piece and work with us to make this plan a reality✨ pic.twitter.com/fyybEuhDWp

— International Science Council (@ISC) November 8, 2019
Tweet 02:
Let's appreciate and celebrate the wonders of science around us this World Science Day!#HappyWorldScienceDay #WorldScienceDay #WeAreHCCB pic.twitter.com/SmZwxdKHsM

— Hindustan Coca-Cola Beverages (@HCCB_Official) November 10, 2019
Tweet 03:
Happy #worldscienceday for Peace and Development! 🔭📚 >> https://t.co/QdLm8OOfO4 Scientists play a key role in broadening our understanding of the 🌎, the impact of human activities on its climate and how we can make our societies more sustainable. Video: @NASA pic.twitter.com/NH0MA1Y0gO

— UN Climate Change (@UNFCCC) November 10, 2018
Tweet 04:
#DidYouKnow we've had a Scientific Department since 1934? Here, Scientific Adviser Ian Rawlins examines Van Eyck's 'Arnolfini Portrait' back in 1947. #WorldScienceDay pic.twitter.com/zMaTC5JSZZ

— National Gallery (@NationalGallery) November 10, 2018
Tweet 05:
Science is a fundamental human right!

In collaboration with @Art_in_Research, @UNESCO brings "Science, a human right" an exhibition on the reflection on social dimensions of science – come check out!

#ScienceDay #RightToScience pic.twitter.com/21PghLwxGG

— UNESCO (@UNESCO) November 10, 2018