Do you think a computer can do everything that a human brain does? I agree up to 75% but not fully 100% as there are some differences because computers are devices made by humans. It clearly proves that humans are smarter hence created smart things like computers. In today's improving digital world most of us transfer our human works to computers for simplification of our life. However, we have a lot of works where we cannot depend on the computers doing for us. Although humans are smarter than computers sometimes we may forget something's, due to psychological problems but when comes to a computer it will never forget to do wrong.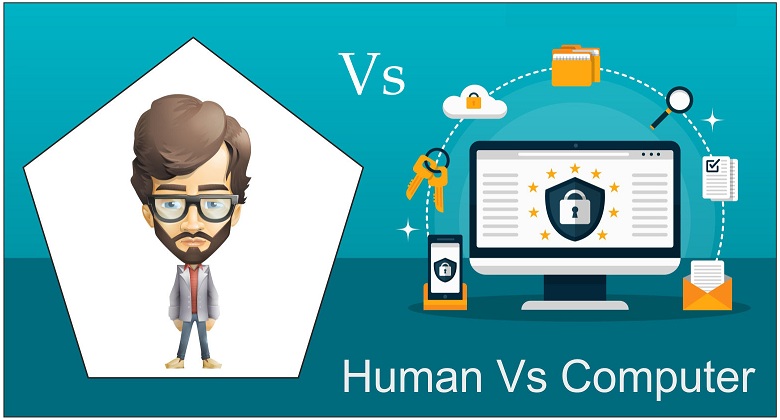 Human Strength vs Computer Strength:
Human Strength:
Humans have common sense, multiple neurons and the brain has the ability of self-processing.
They can also think out of the box but sometimes take time to recollection.
Human Brain receives inputs through senses such as hearing, sight and also detects patterns, abnormalities, and trends in visualization data. At the same time, they can recognize facial expression, voice, and action.
Similar to computers human brain is also a single store where you can save unlimited information but takes time to recollect.
Humans are still superior to computers in many ways as they can perform tasks, make decisions, and solve problems based on intelligence and life experiences.
Computer Strength:
In computer to process, anything it requires electricity.
Computers require input and process at a faster speed.
The computer supports a variety of input devices such as a keyboard, mouse, joystick, a microphone for voice input and recognition, biometrics and scanners, etc. All these inputs help the human to communicate with computers. Until you incorporate an input command to your Computer you will not receive the output.
Computer output device includes sound, display on the screen, printouts when connected to external devices.
Generally, the computers will not sleep like humans so they can analyze, calculate and perform the task even round the clock without tiredness.
Whereas the computers are not affected or influenced by emotions, feelings, wants, needs, etc.
In humans for impulse transmissions and response related via an electrochemical process of their neural networks, so they require some nutrition. But when comes to computers they totally rely on the electricity rather than organic compounds. In this way, the relationship between human and computers represents the combination of organic thinking and machine calculating where one cannot exist without other. By improving the synaptic connections in the nervous system, humans can improve their memory. But if you want to increase the computer's memory then you need to add chips, and or a physical memory drives such as a hard disk drive.
Let's check few comparisons between Humans and Computer:
Humans and Computers both are used for storing and processing the information to accomplish tasks. Both use electrical signals in computer its binary system and in human it's neuron to neuron. Humans cannot work without physical emotions while computer acts mathematically and logically. The human brain cannot be updated whereas a computer can be updated with the latest evolving technology. The Humans can easily adapt and learn to new things without any trouble where computers have better ability to do multitasking at the same time. The human brain can learn by mistakes, by errors, by experiences it may be good or bad. As the time passing on computers are also getting more smarter and capable of learning what the computer programmers want to feed it in research centers by different engines like voice recognition system and optical recognition systems, etc. By this, we can say computers are progressing towards a big revolution. Now the computer also has the ability to use the two most important senses that include like sight and sounds.
So now we have to decide who is more capable human or computer? Also, need to know who has better performance and capabilities?
In my opinion, a computer can never overcome humans in terms of thinking, hearing, sight, smelling. There are a lot of fields where we require a brain to complete tasks. On the other hand, Human Brain is more powerful than a computer. Unless and until the computers gain the ability to think on their own we cannot call them intelligent.
Related Articles: